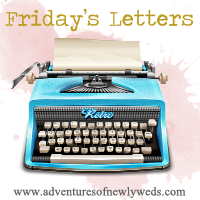 Dear Week: What a wired week you have been. That is all I can say. You have been a mix of extreme emotions for me.
Dear Father: Thank you so much for what you did & our convo. It was a long time coming & I pray that our relationship can get better. You dont know how much I need you & how much your future grandchildren will need you.
Dear Family & Friends: Thank you ALL for the Happy Birthday wishes & blessings. It really made me feel good. I wish you blessings back. besos y abrazos ( Kisses & Hugs)
Dear Mr. : Thank You for my beautiful purple roses & yummy cake & for getting the landlady & her kids to sing Happy Birthday to me.
Dear Mommy ( Mother in Law) : I pray that your family gets through this heartbreak of your brother passing. I will be here for you.
Dear Followers: Enjoy your weekend!