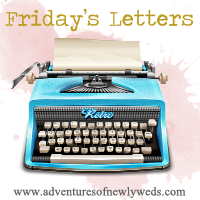 Dear University:
It has been a week! I have been getting to know how online classes work & I think I am getting the hang of it.
Dear Workouts:
Its now getting a little bit easier, although we still have a long way to go but at least Iam pushing myself more & I am actually looking forward to some workouts.
Dear Melanie;
Thank you so much for the amazing work you did on my blogs! Its amazing what a fresh look can do for your blogging passion.
Dear new laptop :
I am loving you so far! so glad you came thsi week.
Dear Homemade Laundry Soap

:
Who knew that I would start liking to do laundry! I am so happy that I bought some from
Shar's Soapery
& made a batch of my own.
Dear New followers:
Thank you so much for following! Hugs!