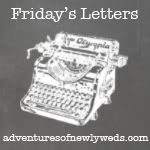 Dear Week: I am happy the weekend is finally here, I can finally go food shopping.
Dear Mr.: I cant wait to spend the weekend with you & praise God we are getting our new tires put on.
Dear Laptop: So I upgraded you to Windows 8, I must say I really like it yet Im not sure about some things, Im still playing around, I dont like how I had to uninstall my Mcafee just to upgrade, but I have thought about downgrading. We shall see.
Dear Followers: Thank you for reading & HELLO to my new followers! Dont forget you can
Sponsor this blog
!
Have a great weekend!