So today I am feeling much better, although my stomach doesn't "feel" back to normal but at least I can keep food down. I worked out a lil yesterday but the Mr. didn't want me to , for the fact I needed to rest, he was right.
This morning I decided to go walking , our home is right next to 2 different walking/biking trails. I have been walking on one trail right next to the house but Ive been wanting to try the other one. I decided that walking was less strenuous than my Zumba workout while trying to get fully better & it was beautiful. I am so glad I went walking!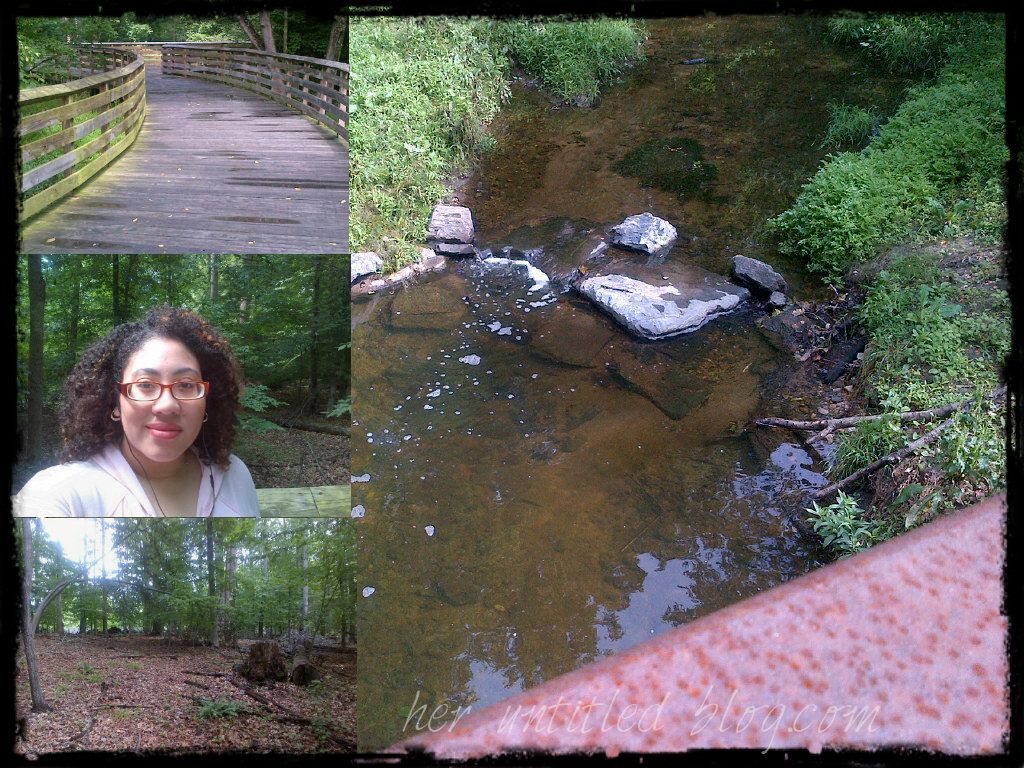 It was so refreshing to walk & it was beautiful along the path, even though we live in kind of a urban city area its great to still be able to walk along nature. I didn't bring a camera but I think my Blackberry did just fine! ( can you u believe that's my Blackberry cam!?) I know you guys have been asking for pics, so I took some for yas!
After a nice walk I came home just in time, my hip began hurting ( i have hip issues) but I still had energy to wash 2 loads, fold some clothes, clean the bathroom & made dinner all before 3pm. Why dinner so early?!
I am starting a new schedule with cooking , instead of sleeping & waking to cook around 5/6 pm I am cooking early in the day popping it the fridge & when Mr. gets home I or he just heats it up. I work nites so I need sleep, plus taking care of the home, I admit Ive been trying to find a balance. The Mr. actually suggested this saying " make dinner early, I have no problem heating up my food" I love it that he really tries to understand & help me when it comes to the home.
For dinner tonite I made Clean Eating Lemon Zucchini chicken , I have a feeling its gonna taste really good! We are switching to Clean Eating but not all the way, we are doing whats we feel is best for our lil family.
I also feel good because I read scripture today & I always feel more accomplished & just better when I read scripture, something I obviously need to keep up! Anyway enough for now, this chica is getting tired!
Peace.