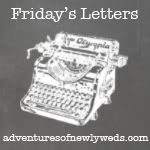 To My Week:You have been , well a week. What can I say.. I Love that the weekend is here again.
To My Mr. I Love You .. Thank You for always working hard & taking care of us. Keeping us safe & making sure we always have what we need.
To my mama: I cant believe the time is coming for you to leave Michigan & go to Texas.
To Work; You have been kind of busy this week due to the State Surveyors. Oh Joy.
To my Readers: Thanks to staying while I was gone. I hope my fellow East Coasters are safe from the Hurricane that hit us. You all are in my prayers.
Have a Great Weekend!