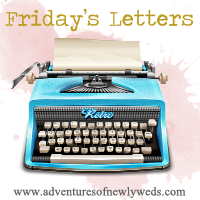 Dear Sister: I cant believe your 12 now! Blows my mind.
Dear Sisters: Im sorry the plans didn't work out for us to come get yall , but don't worry, we are gonna get yall down her in August.
Dear Mr.: Thank you so much for my beautiful roses that you bought me "just because" you always find ways to make me feel special & appreciated & thank you for sacrificing your sleep last nite to stay at work with me for a while because I was very uneasy after that creepy phone call. I love you.
Dear Body: Yay! We are getting back on track with our workout schedule. I know your sore & exhausted thus im giving you today off, but tomorrow im working you out!
Dear momma: I am thankful to God you got to Texas safely, enjoy your first ever ladies trip & I pray God leads you to if that is where our family should be.
Dear Bloggies: Thank you again for reading my posts, Hugs!
Whats your Friday Letter?.....leave links below!
Peace